donald trump has claimed to have hit a hole-in-one at his golf course in Florida while playing with a former world No1, Ernie Els.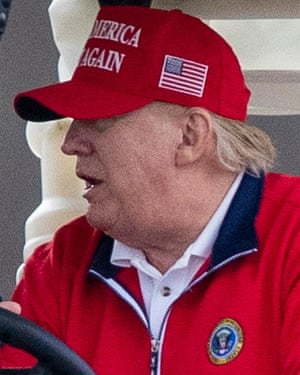 The former president released a lengthy statement about the shot, which was said to have happened on Saturday, late on Monday.
Earlier, a federal judge said Trump likely committed felonies during his attempts to overturn his election defeat by Joe Biden and the January 6 committee recommended criminal contempt charges for two aides, Dan Scavino and Peter Navarro.
If the hole-in-one statement that followed was meant to change the conversation, it was not Trump's first such gambit.
It was however marginally less dramatic than his move last week, when a prosecutor who resigned from an investigation of Trump's business affairs said he believed the former president committed "numerous" felonies.
Trump followed that with a 108-page lawsuit alleging a vast conspiracy to delegitimize his presidency, led by Hillary Clinton.
Trump said he scored his hole-in-one on the par-three 7th at Trump International, West Palm Beach. He said there was both a "slight wind" and a "rather strong wind", as he hit a five iron. The ball, he said, "bounced twice and then went clank, into the hole."
to video accompanied the statement. It showed Trump picking a ball out of the hole, but not the shot he said put it there.
Referring to Trump's status as the 45th president, Els tweeted: "Great shot on Saturday 45! Fun to watch the ball roll in for a hole-in-one."
It has been widely reported that Trump cheats at golf. In 2019, the golf writer Rick Reily published a book, Commander in Cheat: How Golf Explains Trump.
Here's an interview with Reilly, by Donald McRae:
.