40 minutes: Patrolling his technical area, Mansfield manager Nigel Clough looks utterly dejected and he might as well be. He can bet his bottom dollar that his dad Brian would have had a lot to say to Ollie Hawkins at halftime, if the defender hadn't had the good sense to get off the ground first.
38 minutes: Having earned an initial yellow for a silly and unnecessary off-the-ball incident, Hawkins earns a deserved second a few moments later for a late late challenge on Wilson. What was he thinking?
RED CARD! Mansfield up to 10 men
Disaster for Mansfield Town! Down two goals, Mansfield is now a man down as well. Ollie Hawkins gets his second yellow shortly after the first for a ridiculous late charge on James Wilson. That is unspeakably silly of the Mansfield centre-back.
34 minutes: For Port Vale, Mal Benning drives down the inside left and chooses to shoot rather than pick Kian Harratt at the far post. Nathan Bishop stops his shot at the near post.
32 minutes: The Mansfield Town players look a bit shaken after going down two to a quick double.
31 minutes: Mansfield's Ollie Hawkins is booked for a shove to the face by Port Vale's Nathan Smith. That is his 15th yellow card of the season.
30 minutes: Mansfield throw-in, deep in Port Vale territory. He heads clear at the near post.
28 minutes: Ben Garrity finds himself in a one-on-one with Mansfield goalkeeper Nathan Bishop, who spread wide to block the Port Vale playmaker's shot. Offside.
26 minutes: Port Vale have battled for control of this game from Mansfield Town after a shaky start. David Worrall crossed from the right and Ben Garrity jumped to send a looping header to the crossbar. The ball bounced off the woodwork and James Wilson was available and in position to head in on the second down.
GOAL! Mansfield Town 0-2 Puerto Vale (Wilson 24)
Port Vale doubles its lead. James Wilson scores in his fourth straight game.
23 minutes: Having hit the post moments earlier, Kian Harratt heads Port Vale into the lead. Mal Benning sent a cross that seemed wide and Harratt finished superbly from close range.
GOAL! Mansfield Town 0-1 Port Vale (Harratt 20)
Lead from Port Vale! Unmarked in the Mansfield Town penalty area, Kian Harrett ducks to head in a cross from the left.
19 minutes: Mansfield's John-Joe O'Tooke loses control of the ball midway into his own half, gifting possession to Port Vale. Garrity connects to Harratt, who hits the ball at the foot of the post from long range.
16 minutes: Another scramble at the Port Vale defence, as Connor Hall heads towards his goalkeeper Aidan Stone, apparently unaware that he is not in his penalty area. Stone heads clear under pressure. Nervous times for Port Vale.
13 minutes: There has been a round of applause from both groups of supporters, in tribute to Port Vale manager Darrell Clarke, who suffered a tragic family bereavement earlier this year. He used to wear the No8 shirt for Mansfield Town, but today he is managing his opponents.
9 minutes: Mansfield turns the screw. A mix-up between Port Vale goalkeeper Aidan Stone and James Gibbons allows Jamie Murphy a free header. Bishop saves at point blank range. Murphy missed terribly, who had the whole goal to target and should have scored.
8 minutes: Port Vale win another corner after Hawkins shuts down a Quinn cross from the right.
6 minutes: Mansfield's Stephen Quinn is on the ground injured after a strong challenge from Port Vale right-back David Worrall. Free kick for Mansfield, who is sent to the penalty by Stephen McLaughlin. The fall is off for a corner. James Wilson clears.
4 minutes: For Port Vale, James Wilson launches a cross into the Mansfield Town area. Oliver Hawkins clears to the near post.
3 minutes: Mansfield goalkeeper Nathan Bishop lets a speculative shot from outside bounce off his left side and then gets his first touch – a goal kick.
2 minutes: Port Vale goalkeeper Aidan Stone gets an early touch, throws a pass back and then bombs forward. The ball returns to your direction in a matter of seconds.
Mansfield v Port Vale goes…
1 minute: Mansfield Town gets the ball rolling, their players wear gold shirts, navy blue shorts and gold socks. Port Vale players wear a white shirt, shorts and socks.
Not so long now: There is an estimated crowd of 36,000 at Wembley and players from both teams have just been welcomed onto the pitch. Nigel Clough leads Mansfield, while Port Vale assistant manager Andy Crosby has the honor of leading Port Vale in recognition of the excellent job he did manning the helm in the absence of Darrell Clarke on compassionate leave earlier in the year. this season.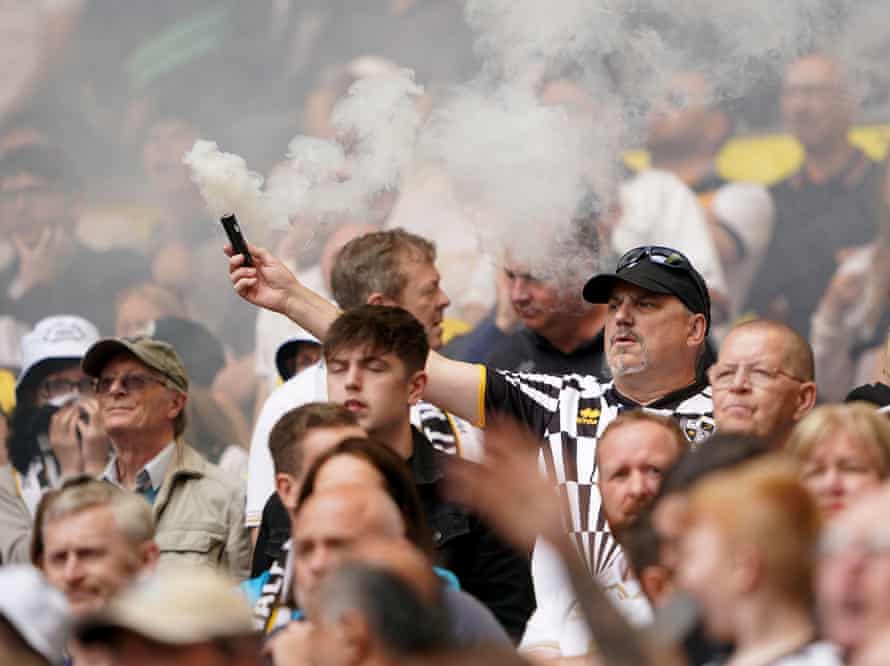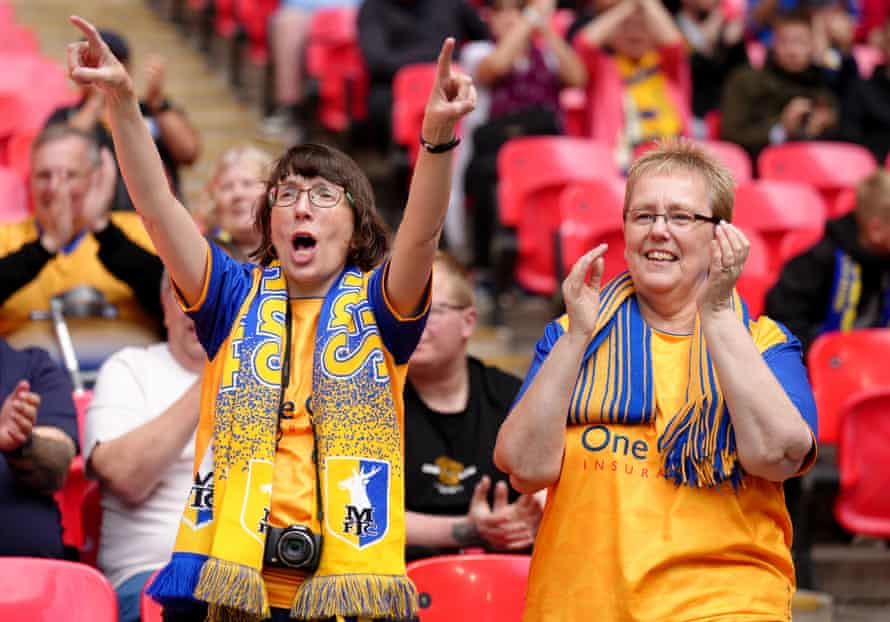 Those teams: Jamie Murphy and Matty Longstaff come into the Mansfield Town side, while Jamie Proctor is on the Port Vale bench.
In his pre-match interview, Mansfield manager Nigel CLough tells BT Sport he is unimpressed with the use of VAR today after his side have played 55 games this season without it. He is puzzled that neither he nor his counterpart, Darrell Clarke, were consulted before its use was confirmed.
I WAS: There will be a video assistant referee monitoring today's match at Wembley, despite the fact that the curtains have not been used up to this point in the League Two season. Peter Bankes is the man watching the monitor in Stockley Park.
Mansfield Town v Port Vale Lineups
City of Mansfield: Bishop, Hewitt, Hawkins, Perch, McLaughlin, O'Toole, Longstaff, Quinn, Murphy, Bowery, Oates.
Substitutes: Maris, Wallace, Stech, Stirk, Lapslie, Akins, Clarke.
Vale Port: Stone, Gibbons, Smith, Hall, Worrall, Pett, Taylor, Benning, Garrity, Wilson, Harratt.
Substitutes: Lucas Covolan, Proctor, Martin, Amoo, Charsley, Robinson, Edmondson.
Referee: Jarred Gillett (Australia)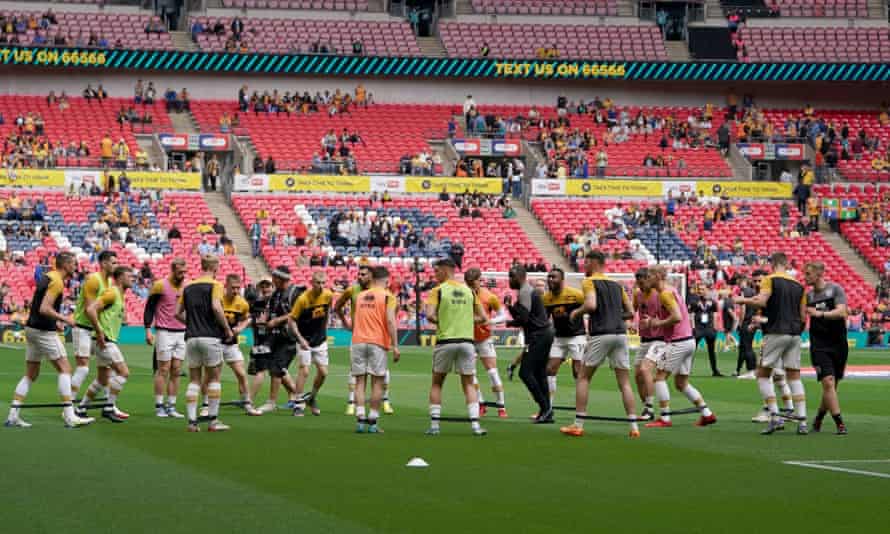 National League play-off semifinal
As we await kick-off at Wembley, Grimsby Town have just beaten Wrexham in an extraordinary National League play-off semi-final at the Racecourse Ground.
The Hollywood-owned National League big spenders are out, losing in overtime by an odd goal of nine in a rather brilliant and gloriously chaotic game of football that ended 4-4 after 90 minutes. Grimsby Town will play Solihull Moors or Chesterfield in the final next weekend.
Referees for today's match
Referee: Jarred Gillett
Referee assistants: Neil Davies and Nick Greenhalgh
Fourth referee: james linington
I WAS: Peter Bankes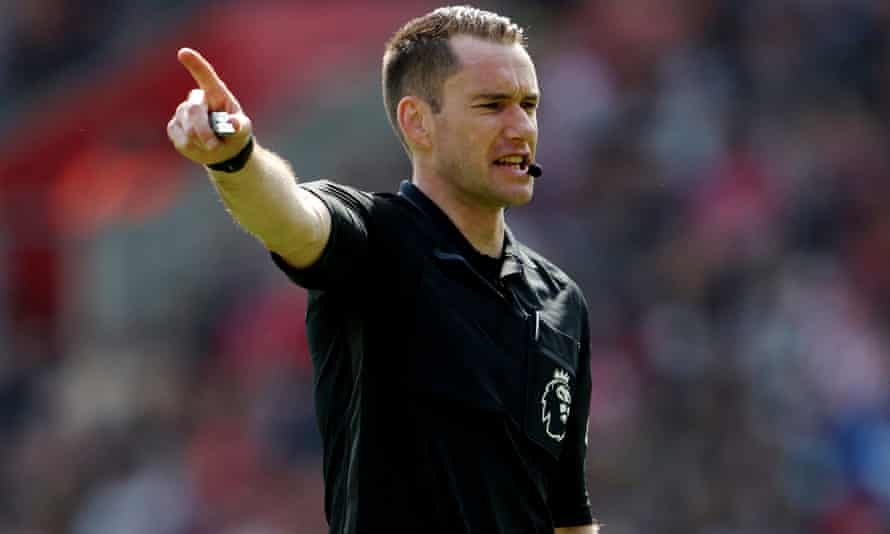 First team news
Mansfield Town central midfielder George Maris is a doubt after he was forced to miss the second leg of his side's semi-final victory over Northampton through injury. Mansfield manager Nigel Clough has left loan-losers Jamie Murphy (Hibernian) and Matty Longstaff (Newcastle) on the bench for the second leg of the tie against Northampton, but it wouldn't be a surprise to see either man withdrawn today. .
Port Vale manager Darrell Clarke has injury problems of his own and will be without long-term absentees Tom Conlon and Brad Walker in his midfield. Their star striker, Jamie Proctor, is also a big doubt, as a hip injury prevented him from starting in any of the legs of the semi-final win over Swindon. Having come on as a second-half substitute in the first leg, he did not feature in Vale's squad for matchday two.
Mansfield Town v Port Vale
A place in the third tier of English football is up for grabs at Wembley Stadium this afternoon when Mansfield Town take on Port Vale in the League Two play-off final.
Only one point separated the teams as they finished seventh and fifth respectively at the end of the league campaign, but Mansfield go into today's decider as mild favorites after winning both games in the play-off semi-final against Northampton, who were still reeling from the heartbreak of being outplayed by Bristol Rovers in the closing minutes on the final day of the season.
Today's is Port Vale's first appearance at the refurbished Wembley Stadium, while Mansfield Town have not closed the doors of the FA headquarters since losing the 2011 FA Trophy final to Darlington. Kick-off is at 4:00pm (BST), but stay tuned in the meantime for news and team preparations.