The deputy prime minister has insisted there will not be a Boris Johnson leadership vote next week, saying "the Westminster bubble hits these things."
Dominic Raab downplayed any threat to mr johnsonThe office of prime minister as the number of Conservative MPs who publicly called for it to be reached 41 in the wake of Sue Gray's report on lockdown break parties at Number 10 and Whitehall.
Politics live: number 10 will go on a "war footing" for the cost of living
Asked by Sky News' Kay Burley if there will be a leadership vote next week, as former leader William Hague predicted, he said: "No. I think the Westminster bubble, the people, stir these things up and I'm not saying it's it is not serious or significant, but we deal with all those problems, the prime minister has dealt with all those problems.
"It feels like a lot of commentary on this issue when actually when I speak to MPs and in the House of Commons about the issues that I'm addressing… they want to see us pushing that agenda.
"To be honest, the no-confidence votes, the leadership disputes, all of that is even more of Westminster speaking to itself, not speaking to the public, our constituents and the vast majority of MPs respect, acknowledge and agree with that. ".
John Stevenson became the 28th MP to ask Johnson to come and revealed on Tuesday that he had submitted a letter of distrust of the prime minister to Sir Graham Brady, chairman of the 1922 Conservative MPs Committee.
A total of 54 letters, 15% of Conservative MPs, need to be delivered to trigger a leadership vote, and only Sir Graham knows how many letters have been sent.
Currently, the number of MPs who have publicly revealed that they have delivered a letter has not reached that threshold, but it is possible that more have done so privately.
In 2018, only 24 MPs said publicly that they had delivered a letter of censure to Theresa May, but a leadership vote was triggered as more than the required 48 had actually come forward at the time.
Read more:
All Conservative MPs who have called on Boris Johnson to resign
The conservative parliamentarian explains that he does not trust the prime minister


Raab also defended the prime minister after his ethics adviser, Lord Geidt, asked the prime minister to explain why he thinks he has not broken the ministerial code after being fined by the Metropolitan Police for breach of confinement.
Lord Geidt reportedly attempted to resign because he feared that if he asked Johnson for permission to investigate the matter, the proposal would be rejected.
A Downing Street source told Sky News: "It was a misunderstanding, we don't expect a resignation."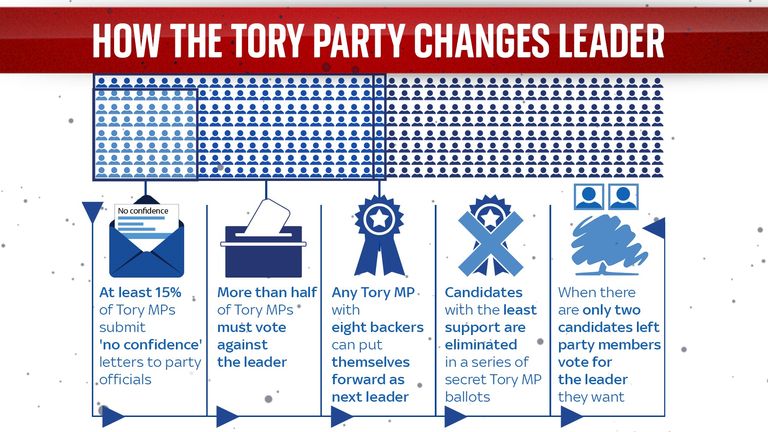 Johnson wrote to Lord Geidt to say: "All things considered, I did not break the code."
The prime minister said he apologized for attending the birthday party for which he was fined and insisted "at the time I did not consider the circumstances in which I received a fixed penalty notice to be contrary to the rules."
Raab said: "Lord Geidt raised that issue, the PM responded and was clear in relation to the single fixed penalty notice that he had not intentionally broken the law and his attendance at that meeting was well rehearsed, it was inadvertent.
"I think these answers have been answered both generally and now specifically in the letter that the prime minister sent."