With the minutes ticking by, Darrell Clarke leaned against a billboard, head down, and composed his thoughts. Port Vale were promoted to the First Division, that was for sure: their excellent left-back Mal Benning had just volleyed in the third goal and, in truth, the match was settled long before then. Only Clarke can know exactly what emotions were swirling in those moments, but by the time the final whistle was blown, the spell of personal reflection had passed. The Vale players frolicked deliriously on the Wembley pitch, their coach soon joining them, and the overwhelming feeling was one of delight at an exceptionally well-done job.
Clarke had returned to the bench earlier this month after a phased return to work, which followed a six-week period of compassionate leave following the death of her eldest daughter, Ellie. He could hardly have launched himself into a more meaningful series of matches; everyone involved has outdone themselves and pride will run around a club that had gotten used to life in the doldrums. Once they took the lead through Kian Harratt, Vale never seemed to lose a tie that seemed too close from the start. They were aided by Mansfield's capacity for self-destruction, manifested most blatantly in Ollie Hawkins' stupid red card, but this was a performance of intensity and dexterity befitting its destiny.
"I worked really hard to control those emotions and then they all came out," Clarke said. "Is special. I think she was up there kicking all the balls, so she dedicated it to my daughter." It had been an afternoon of profound and significant gestures. Clarke began his playing career at Mansfield in the late 1990s, wearing the number eight shirt with distinction, and his former club elicited a standing ovation from the stands in the eighth minute. He was visibly emotional as all sides of the national stadium applauded. "To do that for me and my family, I will always be grateful," he said.
Right before that, Jamie Murphy should have put Mansfield ahead, but he went straight for Aiden Stone after some defensive indecision. That would have given a different nuance to on-pitch proceedings, but Vale took control from there, using the width of the pitch to excellent effect. Jake Taylor pulled the strings in midfield, but the standout player was James Wilson, once such a feted youngster at Manchester United and now looking a class above this level.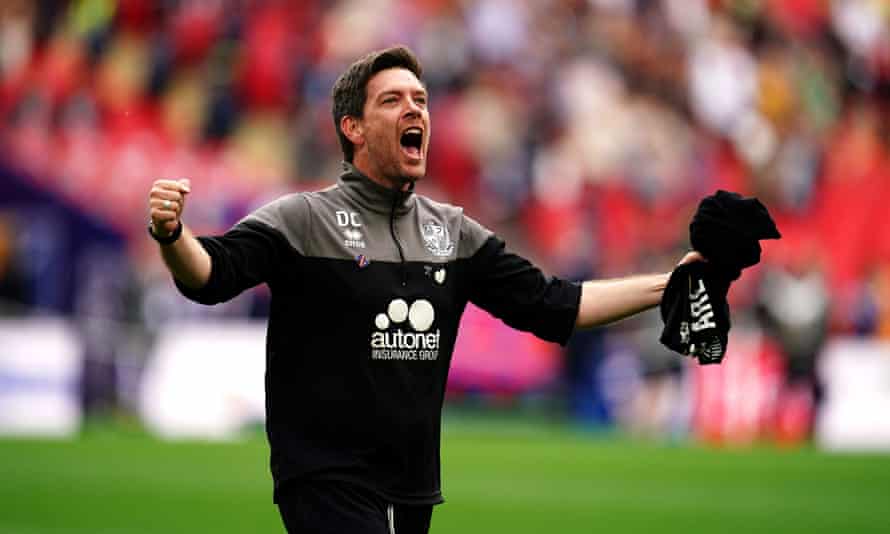 Huddersfield loan Harratt's first goal was a well-taken angled header, which was adjusted to show Murphy how it should be done after Benning's wide cross. He had just hit the post from 20 meters. In four minutes, Wilson made two from close range after Ben Garrity nodded a shot from right-back David Worrall to the crossbar. "What a player," Clarke said of Wilson. A great player who has produced goods. I love the boy, he is amazingly talented."
An experienced Mansfield side might have been expected to stabilize but instead they screwed it up, Hawkins skewering Wilson shortly after receiving his first yellow card and handing Jarred Gillett an easy decision. Only 34 minutes had been played; They still might have made a game if Connor Hall hadn't heroically cleared Ryan Oates' line, but since then his chicken was cooked.
"We didn't give ourselves a chance," said a frustrated Nigel Clough, whose team can still be proud given that they were in the relegation places last October. Would he return, however, to see Nottingham Forest in Sunday's championship final? "I don't care if I don't see another football match for the foreseeable future."
However, Clough said the fact of Clarke's victory made the pill less bitter. Port Vale handled the second half consummately and Benning, formerly a Mansfield player, added an elegant late flourish. "With everything we've been through, putting on that performance the way we did was outstanding," Clarke said. It applies to his team, but mostly to him.