Star Entertainment Group may have underpaid the NSW government by up to $2.5 million in gambling taxes by misclassifying local customers as international high rollers.
The investigation into The Star's Sydney casino license also heard on Wednesday that the group's New South Wales director of casinos, Greg Hawkins, was unsure whether the company had notified the state regulator about the possible underpayment.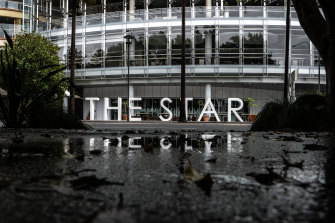 The Star pays NSW tax of 27.5 per cent on the money it wins from local players at its Pyrmont casino, but only 10 per cent on winnings from international high rollers.
But the royal commission-style review, launched after the Sydney Morning Herald, Age and 60 Minutes exposed large-scale money laundering, criminal infiltration and fraud at The Star; heard that the casino did not follow established procedures to determine what tax rate to apply.
That included a requirement for international players to spend no more than 183 days in Australia in a 12-month period, and Hawkins said he viewed the COVID-19 border closures as a "mitigating factor".
An internal audit of 25 backers, who bet on The Star on its international show between July and September 2020, showed that 12 had exceeded the 183-day limit. They lost a combined $14 million to the casino, with a potential tax underpayment of $2.5 million due to the lower rate.
The attorney assisting Naomi Sharp, SC, asked Hawkins if he thought the Star might need to pay more tax to NSW because it had misclassified local players as international.
"I accept it," Hawkins responded, adding that he thought "most of the players … were still eligible."
"In the scheme of the total gaming tax that we pay, which is about $350 million to $400 million a year, I could have taken a lower risk approach. But I felt like I was sure they were still eligible."